Affiliates


What is Hope? - A wish or a desire accompanied by confident expectation of its fulfillment.

Allah commands us to hope for the best from Him, in all situations. However, there are bounds before we hope for good things from Allah. For example, a student who does not prepare an iota for his final exam, yet confidently hopes to pass, is deceiving himself. He comes to know of his great failure and by then, it is too late, when he cannot rewind his actions. Similarly, we must make sure that our hopes to attain jAnnah are based on our hard work and efforts to please Allah, lest we dream high and all our hopes are rendered in vain because of the lack of sincerity and hard work.

Allah SWT says in the Qur'an in Surah Baqarah, verse 214: Or do you think that you will enter Paradise while such [trial] has not yet come to you as came to those who passed on before you? They were touched by poverty and hardship and were shaken until [even their] messenger and those who believed with him said," When is the help of Allah?"Unquestionably, the help of Allah is near.

Did you Know the 3 Kinds of Hope?

Working righteousness and hoping for a reward: This is the best kind of Hope. As Allah SWT says in the Glorious Qur'an –

"And as to those who hold fast to the Book (i.e. act on its teachings) and perform As-Salat (Iqamat-as-Salat ), certainly We shall never waste the reward of those who do righteous deeds." [7: 170]

Repenting from a sin and hoping for a reward: Sincerely repenting and then hoping for Allah`s rewards.
Narrated Abu Huraira: Allah's Apostle said, "When Allah completed the creation, He wrote in His Book which is with Him on His Throne, "My Mercy overpowers My Anger." (Bukhari)

Prophet (saw) said: "O son of Adam, as long as you call on Me and ask of Me, I will forgive what you have done, and I will forgive what you have done, and I do not mind. O son of Adam, even if your sins reached the clouds and you asked My forgiveness, I will forgive you. O son of Adam, if you came to Me with sins nearly as great as the earth and you met Me without giving Me partners, I will give you a similar amount of forgiveness." (Tirmidhi)

Hoping without performing: E.g. Hoping to go to Jannah without doing any righteous deeds, Not working thinking Allah will somehow find a way out for us for survival, etc. This hope does not count in Islam.
Allah is waiting to grant forgiveness and mercy to His creatures. So, let us discover where we stand, and progress in the correct direction, by increasing our deeds and actions, and thereby hoping for the Best from Allah.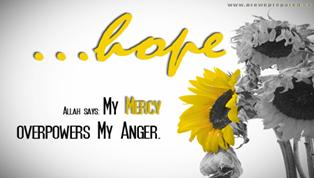 http://areweprepared.ca

---
Permissions in this forum:
You
cannot
reply to topics in this forum